Moving Away from Ticking Boxes – A Self-Development Workshop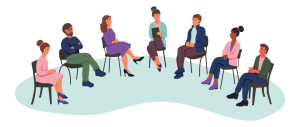 "Moving away from ticking boxes" – A Self-Development Workshop
How can we talk about our emotions without feeling judged, or that someone wants to fix our problems? Evermore today people are striving for perfection, showing only their strengths and accomplishments while hiding away during times of grief, sadness and struggles. We may feel shame, isolation or use an avoidance strategy when we are trying to cope with difficulties in our lives. Eventually these difficult emotions catch up with us, overtake and worsen.
Here at Turning Point we would like to offer a space for people to come together and leave goals and achievements at the door. For a tiny window of your week we would like you to experience indulging in your feelings. Giving them priority whilst connecting in a safe supportive environment where meaningful connection is the only direction.
Giving your emotional world the priority will allow deeper self expression, with time that allows the mind the opportunity to nourish and develop. With two experienced psychotherapists conducting the group we hope to give people the sanctuary to slow down and share how they really are and hopefully become more connected to their inner world.
Join us, Veronica Lax and Simon Cerri, every other Tuesday from October 5th.
Dates: October 5th & 19th, November 2nd, 16th, & 30th, December 14th
Location: Observatoriegatan 6
Time: 18:00 – 20:30 with a 15 minute break (we will offer tea, coffee, chocolate and fruit)
Max participants: 8
Price: 4200 SEK
RSVP by September 28th
Contact: veronica@turning-point.se, mobile: 070 578 35 00